The Museum of Beyond imagines a future beyond oil... It's a life without plastics, and yet plastic fragments of our Oil Age lives continue to wash up on the shores of our oceans. The museum sees the present through future eyes, imagining what future generations might make of these plastic objects - and what they will perhaps think about us.

Explore our collections, contribute, enjoy... But, above all, let's spread the word about reducing our fossil fuel use - including our use of plastics (especially single use items like bottles, cups and tampon applicators) - and taking action now to help stop climate chaos and biodiversity loss. And don't forget to lobby government and corporations for change too - we can't do this by ourselves!

Most of all, let's hope that by thinking about the way we live now, we can begin to imagine how we might create a better future for all life on our planet.

Fran Crowe, artist and curator of the Museum of Beyond
ofbeyond
PLASTICS AND OUR OCEANS

An estimated 12.7 million tonnes of plastic end up in our oceans every year and is travelling on ocean currents to every part of the globe. These plastics endure in the marine environment indefinitely: items from the birth of plastics are washing up on our shores, virtually unscathed. Our oceans and coastlines are literally choking on plastic.

Disposal of plastics in our oceans is not just harming wildlife now (an estimated 100,000 marine mammals and turtles, and over one million seabirds are dying every year due to entanglement with or ingestion of marine plastics), we are also providing a toxic legacy that may last an eternity. Moreover it can be found throughout the food chain - from zooplankton to whales - even ending up in the food on our plates.

But it's not too late to make a change! We can all make a difference in helping to reduce the plastics in our oceans.
For helpful ideas and action read on...
OIL AND PLASTICS

The oil we use to make plastics is derived almost entirely from the compressed buried remains of microscopic aquatic algae and bacteria. Energy from the sun, which fuelled the growth of these tiny organisms many millions of years ago, has been converted into oil which we rely on to fuel our 21st century lifestyles. Although global fossil fuel consumption continues to grow, the supplies of fossil fuels are finite and will one day run out. Moreover, in order to prevent calamitous climate change, the vast majority of scientific opinion agrees that most of the fossil fuels that remain must stay buried in the ground.

And yet still we squander these precious oil reserves by mass-producing billions of plastic items every day (many of which are single use), which contribute to global climate change in their production (and perhaps in their use) and which will last indefinitely in the natural environment.

Plastics, like diamonds, are forever...
EXPLORE:
HOME
_____________________
COLLECTIONS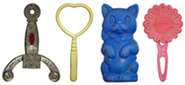 ROAMING GALLERY
_____________________
NEWS / WHAT'S ON
_____________________
JOIN IN
COLLABORATION
_____________________
ABOUT
LINKS
CONTACT
_____________________
OBJECT OF THE MONTH



click on image to find out more
______________________