NEWS ARCHIVE
Blue Dot Generation's Arts for Education
The museum (minus horse box!) will also be taking part in Blue Dot Generation's Arts for Education at The House of Vans, London SE1 8SW 26th - 30th September, 2018 - a unique 4-day immersive event of art, photography, performances, documentaries, panel discussions, sport, fashion, workshops and music, aimed at educating us all on the damage we are doing to the oceans. For more information and to see the exciting programme of free events, see https://www.bluedotgeneration.org.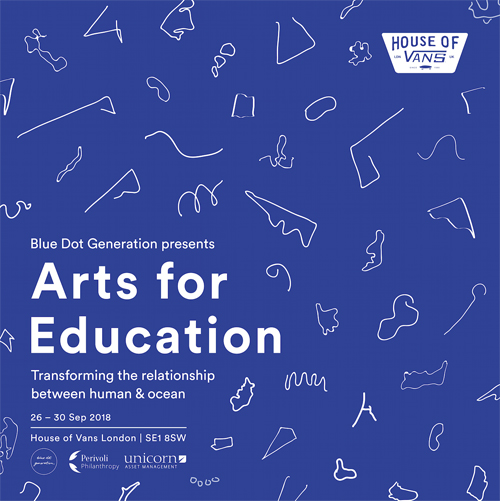 Museum of Beyond open day
Coming up this Saturday 22nd September 10am till 6pm - an open day for the museum in our garden in Sudbourne, Suffolk. Contact Fran for more details. We'd love to see you here!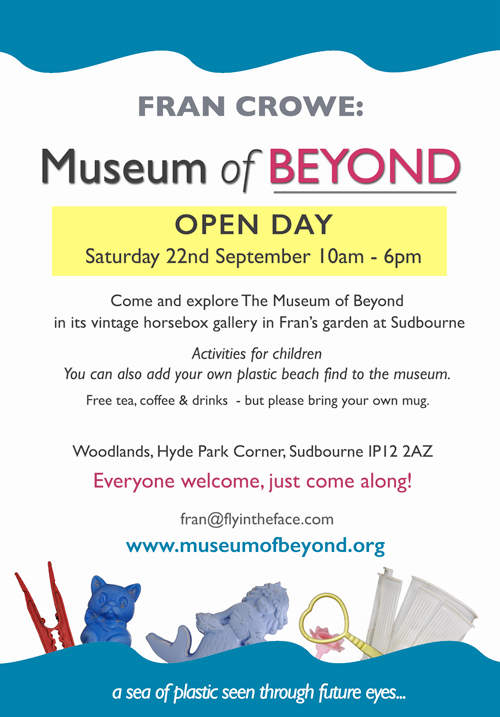 --------------------------------------------------------------------------------
Art in a box at Ufford Arts Festival
We had a fantastic time in the sunshine at Ufford Arts Festival last weekend with lots of visitors - young and old - to our vintage horsebox gallery and so many inspiring conversations... Loved seeing all the scarecrows made from recycled materials all round the village and the world's smallest community art gallery in an old phonebox too!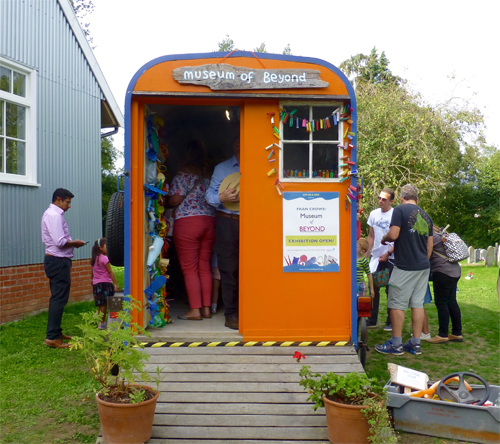 --------------------------------------------------------------------------------
Art in a box at Ufford Arts Festival
I'm really excited about my recent travels with our vintage horsebox - it makes a fantastic roaming gallery for the Museum of Beyond. Next stop is the first-ever Ufford Arts Festival on 14th-16th September 2018. Do come along and say hello - we'd love to see you there! We'll be by St Mary's Church Hall from Friday afternoon. For more details see https://www.uffordartsfestival.org.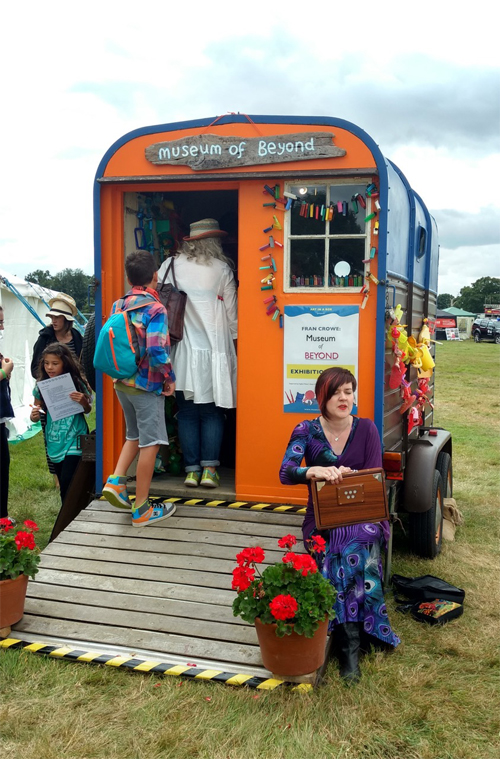 -----------------------------------------------------------------------------------
Art in a box
Fran has recently acquired a vintage horsebox which she hopes to give a new life as a roaming gallery at events in East Anglia.
And Art in a Box will initially feature the Museum of Beyond! Fran is just making some final touches then we will be off on our first outings... Here's details of where we will be going:
Tuesday 9th August - Southwold, Harbour Quay East car park, near the Alfred Corry Museum, 10am - 5pm.
Wednesday 16th August - Southwold, by the pier, 10am - 5pm.
Friday 19th - Sunday 21st August - at FolkEast, Glemham Hall Grounds, Suffolk.
Do come along and take a look. Don't forget you can add to the Museum too: just bring your object (a plastic beach find) along to the gallery.
And if you have any ideas for future locations do get in touch.
See press release here
*These events are generously supported by Anglian Water's Keep It Clear Love Our Seaside campaign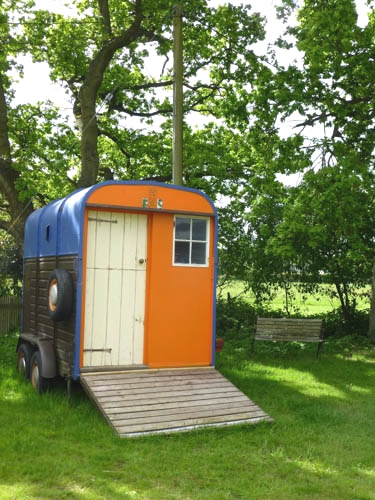 -----------------------------------------------------------------------------------
Pieces of sea and sky
An exhibition with Liza Adamczewski at Sizewell, Suffolk - 31st July until 16th August 2015
I'm very excited about my next exhibition, Pieces of Sea and Sky, a collaboration with Liza Adamczewski at her home on the beach at Sizewell. Liza paints amazing seascapes and creates mini installations inspired by the sea. The Museum of Beyond will be on display and I will also be exhibiting an update of my project, Fresh Air - more relevant now than ever…
If you're in the Sizewell area, do come and join us for opening drinks and nibbles in Liza's garden by the sea on Friday 31st July - or come for tea on Weds 5th or Tues 11th August. The exhibition will be open every weekend and also on other days by arrangement. Just email me for more details - we would love to see you there! And - don't forget - if you have any plastic beach finds you would like to contribute to the Museum, please do bring them along.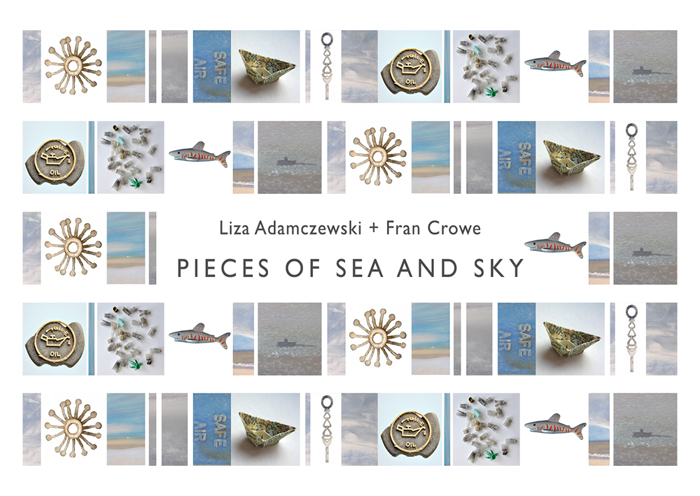 -----------------------------------------------------------------------------------
Launch
After a successful short trial at Snape Maltings last November, the Museum of Beyond was launched at the Lookout on Aldeburgh beach, Suffolk, in July 2014. Fran, the founder and curator of the museum, spent a week in residence at the Lookout, installing her collections and inviting everyone to bring along new contributions to the museum. The Lookout was the venue for many inspiring encounters, and a stunning array of new artefacts was added to the Museum.
Also in residence were Southwold-based composer and pianist, Nathan Williamson, and poet, Leanne Moden. For more about Nathan and Leanne, and to explore Leanne's poems, see COLLABORATION.
Nathan and Leanne both created and performed amazing new work at the Lookout, inspired by the Museum's collection. Photos of the event will be posted here very soon!
A huge thank you too to Caroline Wiseman for sharing a fabulous location and for making Fran, Nathan and Leanne so welcome at the Lookout.
Fran has also been working with several local schools - look out for some of their work on the website soon.
Read the full press release here
You can read more about the Aldeburgh Beach lookout here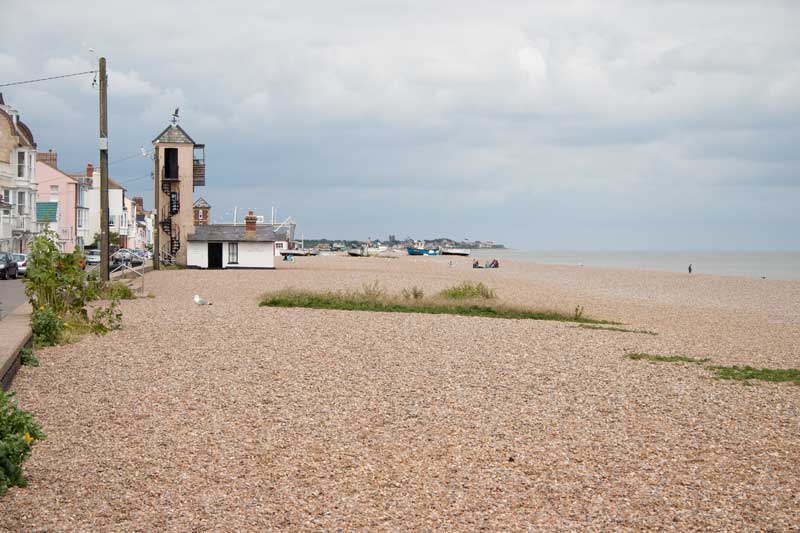 The project was supported by Suffolk Coast & Heaths Sustainable Development Fund.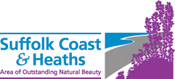 Exhibition

The Museum of Beyond is currently collaborating with Unconfimed Makeshift Museum (UMM) in Irvine, California. For UMM's inaugural exhibition (which opened on 6th December, 2014), the Museum of Beyond and UMM invite the neighbourhood to collect colourful plastic pieces of marine debris from local beaches in Southern California in order to create A present from the Pacific in the Powder Room Gallery and to add to the Museum of Beyond's collection. Read more here.